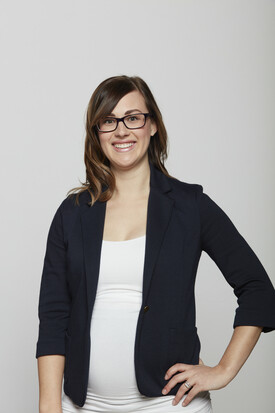 Delta Sciur, B.Mgt, LLQP
Delta has been with Financial Services Group since December 2010. She began her journey with FSG working as a Data Entry Clerk within the GIC department. Due to her strong computer skills, Delta's responsibilities quickly grew and she soon took over the management of the website, Facebook page, advertisements and newsletters.
In the spring of 2012, she achieved her diploma in Management Studies from Grant MacEwan University. In May 2014, Delta graduated from the University of Lethbridge- Edmonton Campus with a Bachelor of Management degree, majoring in Finance.

In June 2014, Delta became a full time employee at FSG working in an extensive training program to become an advisor. She began her training in the GIC department and soon moved on to the market based investments department. Delta also started working with Navi Plan. She assists advisors with creating their client's Navi Plans by entering the data and preparing the reports. In September 2014, she completed her Life License Qualification Program and became a fully licensed life and accident and sickness insurance agent.
What Delta Does for You: 
Delta's expertise is in the life, critical illness and disability insurance department at FSG. Delta helps her clients build their financial PLANs by ensuring proper insurance products are in place combined with appropriate savings products.
"Because I have recently experienced graduating university, starting my career, purchasing a home and having a young family, I can easily relate to other young families who are going through the same stages in their lives. I enjoy helping these types of clients create a foundation to their financial plan through life insurance, critical illness insurance, and setting up different savings platforms such as RRSPs, TFSAs and RESPs for their children."